The newest season of Insecure dropped some serious knowledge about relationships with friends, with partners and with self. Perhaps the best season yet, it authentically deals with issues like mental health, post-partum depression, the importance of self-care, and finding happiness. For those of you that are somehow unaware of this widely popular HBO show, Insecure explores the complexities of a female friendship, awkward everyday encounters, and social issues that are relevant to the modern-day Black experience. It was created, written, and stars the multi-talented Issa Rae who shares a point of view not often seen on mainstream television.
This season Issa and Molly are on the outs in a big way, and we, the audience, get to see sides of these characters we've never seen before. The growth of all the major cast members is one to be praised and this season has so many teachable moments that can be applied to real life. Honestly, Insecure's really calling me out by name, so hopefully these themes will help you navigate the complex road of relationships. Spoilers ahead!
Talk It Out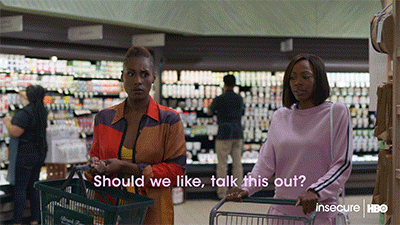 It's been said that communication is key to a healthy relationship. I'd like to amend this statement to "productive communication is key to a healthy relationship." For communication to be productive it means moments of dialogue that get to the root of the problem and advance the relationship instead of surface-level communication that does not solve anything. An example of surface-level communication would be Issa and Molly sweeping issues under the rug instead of acknowledging them in episode nine "Lowkey Trying."
Instead take a page from Andrew's book and address the problems head on to generate a dialogue. In episode four "Lowkey Losin' It," Andrew admits he doesn't feel like a priority in Molly's busy schedule. He was clear and honest and explained why he felt shut out, which led to a productive conversation and a real change in the relationship. Taking the necessary steps to effectively communicate is a healthier way to handle problems rather than bottling it up and leaving it to implode later.
Self-Care is Essential
In the beginning of the season, Molly and Issa always made time for "Self-Care Sundays." A chance to do yoga, hike, or get breakfast and catch up on the week's drama and good news. A time for good vibes only and to be surrounded by energy that uplifts the spirit; feelings that transferred to their everyday lives. Further into the season, Issa began to prioritize herself and her feelings. Self-care with oneself is a chance for an emotional detox—getting rid of past emotional stresses and baggage to be able to grow as a person and maintain healthy relationships.
You Might Be Your Own Worst Enemy
Molly is easily the most exasperating character on Insecure (sorry not sorry). In previous seasons, Molly had become her own worst enemy when it came to dating. She clung to very strict expectations of her ideal man, so the relationship would usually end because the real men she dated could never measure up. This is how she almost lost her current season love interest, Andrew. Ultimately, she realized she didn't want to lose out on a chance at love and happiness because of one seemingly insurmountable factor. Since then she has maintained her most stable relationship. Food for thought: are your expectations preventing you from following your heart?
It's Okay to Let Someone Go That Does Not Reciprocate Your Commitment to the Relationship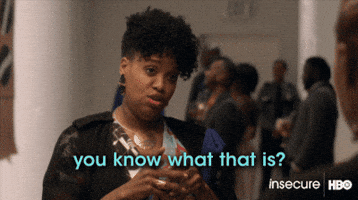 Molly is flawed but she had valid points about Issa's behavior in their friendship. Issa had been selfish in some of her interactions with Molly, frequently asking for something from Molly but never really considering what she might be going through. A balanced relationship is one where both parties give equally. Every situation is different, but if the commitment to the relationship/friendship is clearly skewed, it may be time to consider letting that person go for your own self-care.
Going After What You Want May Bring the Most Happiness
I'll be the first to admit—I was so glad Issa and Laurence weren't done! Episode 8 "Lowkey Happy" dropped some real gems as Issa and Laurence discussed what makes each of them happy. Issa explained with pride how she worked so hard to get her block party together, "It almost killed me, but I did that shit." She expressed how she felt like she was waiting for something to make her happy as if it was supposed to fall into her lap so easily. When that didn't happen, she decided to take happiness into her own hands to create it for herself and seemed to be riding that wave.
Similarly, Laurence leveled up by going after big tech opportunities in San Francisco. His experiences have taught him he's happier being a part of a team and executing someone else's vision instead of being the leader or the "ideas guy." For Laurence, a big part of his block to experiencing happiness was his professional life (or lack thereof). He expressed how ashamed and purposeless he felt when he and Issa were together, and he was unemployed, watching her go to work every day and provide for both of them. It took some time, but Laurence is turning his life around, finally moving on the path toward potential growth in his career and hopefully finding happiness in the rest of his life now that he has overcome one of his biggest obstacles.
Perhaps getting past the biggest obstacle in your life will give you the strength and persistence necessary to find the road to happiness. Finding that road starts with actively going after what you want.
And that's the insecuritea!
ALL PHOTOS, VIDEOS & GIPHS C/O PINTERST, INSTAGRAM & GOOGLE IMAGES
FOLLOW ASHLYNN ON INSTAGRAM!