From Disney star to fashion icon, Zendaya has wowed us with her fashion choices on and off the red carpet. She has a confidence and chameleon-like presence that allows her to pull off just about any style—not to mention any hairdo. She's rocked androgynous suits, decadent armor, and haute couture effortlessly in large part due to her genius stylist and longtime friend Law Roach.
The pair met in 2011 when Zendaya was 14, well before fashion acclaim and international fame. Roach has spoken before about how no major fashion house wanted to dress a Disney star at this time because she wasn't seen as a "serious" actress. A quick rundown for those of you who aren't hip to the politics of fashion: The clothes you see on your favorite celebrities on red carpets are largely borrowed from fashion houses. The exchange is based on the idea that the celebrity's star power will increase sales or strengthen the brand's image, so stylists for celebrities with higher statuses, like movie stars and pop idols, get first dibs on the best offerings. Stylists of "lesser" personalities are usually relegated to off-the-rack finds. With the help of Roach, Zendaya's bold sense of style finally caught the attention of the fashion world in her late teens and her star power grew to new heights. Now the fashion icon graces the biggest red carpets in the world serving legendary looks that create conversations worldwide. The self-proclaimed "image architect" doesn't just put looks together, Roach creates moments and builds a character for Zendaya to play on the carpet (complete with coordinating wigs).
Follow this list to relive some of the best looks from this style chameleon and fairy godstylist. Zendaya and Law make magic and prove this icon among fashionistas can literally pull off any type of dress.
New York Fashion Week (2014)
This was the look that started it all. At 17, Zendaya showed up to New York Fashion Week with this bright blue and yellow Miuniku coat that made online journals and magazines like Women's Wear Daily and Bustle sit up and take notice. Her other just as stunning front-row looks were lauded and made the fashion world recognize this rising star had the fashion cred to be dressed at the highest level.
The Oscars (2015)
As the "plus one of a plus one," Zendaya definitely wasn't a well-known face on the red-carpet that night, but that didn't stop her and her sleek Vivienne Westwood gown from ending up on numerous best-dressed lists. Of course, this moment was overshadowed by controversy surrounding her hair; nevertheless, her look, locs and all, was immortalized in Barbie doll form! I mean, what could be more iconic?
Met Gala: "China: Through the Looking Glass" (2015)
2015 was the first in a long line of the style star's legendary Met Gala looks. The queen was giving us warrior princess vibes with this custom Fausto Puglisi look that cemented her status as a starlet with impeccable style who dressed on-theme for the event.
BET Awards (2015)
The style chamelon has clearly left her Disney days behind and proves she can take risks and slay with the best of them in this sparkly shirt dress by Nicolas Jebran. This look is a notable departure for Zendaya as this is the first overtly sexy outfit we've seen on her. Z's got legs for days, the mesh paneling shows just enough skin, and those sparkly platforms give her at least another six inches. She even clapped back at haters who didn't like her wig tweeting, "When people don't like your hair but they tweetin bout you tho….. #idgaf #idgaf." BOOM.
The Humane Society of the United States Gala (2016)
"Zendaya in suits" has inspired countless Twitter threads and Pinterest boards and this bold magenta look by Christian Siriano always makes the list. This sartorial ensemble screams girl boss and makes it known she can master any style.
Met Gala: "The Art of the In-Between" (2017)
Z looked like a work of art at her third Met Gala. She definitely went big with this Dolce & Gabbana Alta Moda ball gown covered in a large parrot print and coordinated with a blown out 'fro. The look exuded a whimsical and colorful energy, and resident queen of the Met Gala Rihanna even gave the look her seal of approval.
Los Angeles Premiere of Spider-Man: Homecoming (2017)
What did Zendaya do? THAT. The high-fashion muse does monochromatic pink looks like no one else. The impeccably draped custom Ralph & Russo gown came complete with a cape fitting for the premiere of a superhero movie. This outfit makes for her sexiest look yet with the plunging neckline and slit all the way up to there. Law professed this "glam '60s Barbie moment" was his favorite look. Barbie wishes she could pull this color off as well.
Australian premiere of The Greatest Showman (2017)
Who can pull off a human butterfly ensemble for a red-carpet appearance without it looking like a Halloween costume? That's right, Zendaya can. The gown from Moschino's Spring/Summer 2018 collection, which celebrated nature in fashion, is one of Z's favorite looks. We can easily see why, this high fashion take on the monarch butterfly shows us she is feeling more confident in her fashion choices and isn't afraid to take risks. Of course, Law made sure not to overpower the bold gown by pairing it with simple strappy heels and minimal jewelry.
Met Gala: "Heavenly Bodies: Fashion and the Catholic Imagination" (2018)
They asked for "Heavenly Bodies," Zendaya gave us Joan of Arc chainmail realness. One of her most intricate looks, the custom metallic gown was one of the best—if not the best—looks of the night. Roach worked with Versace's Lucio Di Rosa, Head of Celebrities, VIPs, and Haute Couture Clients Worldwide Relations, to create something the Maid of Orléans would wear if she walked off the pages of a history textbook (but, of course, make it fashion). Zendaya carried off her character to a capital "T", even opting for a cropped red wig in the style of the martyr's famous bob. The look was talked about days after the event and inspired a plethora of fan art on Instagram.
GQ Men of the Year Awards (2018)
The title of this event indicates it has something to do with men, right? However, Zendaya is the only one I'm thinking about in this vibrant Ralph & Russo gown. This sophisticated look adds a dash of sexy with that thigh-high slit.
Met Gala: "Camp: Notes on Fashion" (2019)
With a theme like "Camp", you know Zendaya didn't come to play. The Met Gala mainstay dazzled in a custom Cinderella gown, made possible by a collaboration between Tommy Hilfiger and Hussein Chalayan, complete with fairy godstylist and pumpkin coach purse. With a few waves of Roach's magic wand, Zendaya's dress lit up like a Christmas tree! They gave us theatrics, style, and fantasy all in the span of 60 seconds. In true Zendaya fashion, she donned a blonde updo wig with a black headband to complete the look. The actress was so dedicated to her role that she went as far as to "lose" her glass slipper on the stairs. How method! According to Roach, this spectacle signaled her final departure from Disney star to in-demand actress. Well, it's the best glow-up I've ever seen (get it?).
London Photo Call for Spider-Man: Far From Home (2019)
The style star proved she can do preppy just as well as pretty. Law elevated this tweed Alexandre Vauthier blazer and matching vest with an ascot and jeweled pin. Z also debuted her red locks for the occasion.
Spider-Man: Far From Home Empire State Building Photo-Op (2019)
Who said pajamas are for sleeping? According to Zendaya, they're for an event on the Empire State Building. Z left this comfy yet polished look by Peter Do unbuttoned at the bottom to show off her midriff. She elevated it with a red lip and matching pumps to make it appropriate for daytime.
Spider-Man: Far From Home Premiere (2019)
Another carpet, another serve; what else is new? Law commented on this look via Instagram, "If she was Spider-Man, this would be her suit." Yes, indeed. The backless red and black Armani Privé gown channeled the suit worn by her movie's titular superhero. Perfectly on-theme for the event, Z looked like a super-heroine herself!
Paris Haute Couture Fashion Week (2019)
Another one of Zendaya's best menswear-inspired looks is this cropped twist on the classic tuxedo shirt and high-waisted trousers by Armani. This custom look was incredibly daring and a perfect choice to attend the Armani Privé Autumn/Winter 2019 show.
Lancôme Idôle Fragrance Launch (2019)
When you match your outfit to the backdrop of a photo-op, nine times out of ten you'll get lost in the background. But Zendaya isn't like us mere mortals. Not only did she match this blush pink Georges Hobeika number with sequin trim to the Lancôme backdrop, she managed to stand out with ease in the process. All in a day's work for the style icon.
The Teen Choice Awards (2019)
In such a simple look, Zendaya still managed to out-dress everyone at the event. The Jacquemus yellow check shirt and green shorts for the Teen Choice Awards was breezy and effortless for the sunny summer day. Law incorporated her sophisticated Zendaya flair with stilettos and a pair of playful earrings.
The Daily Front Row Fashion Media Awards (2019)
The red-carpet darling turned girl boss gave us a sneak peek of her "Tommy x Zendaya" capsule collection ahead of the runway show unveiling. Her head-to-toe collaboration look channeled the '70s with her lush burgundy velvet pantsuit, matching hat, and polka dot scarf and shirt.
Harper's Bazaar Icons Party (2019)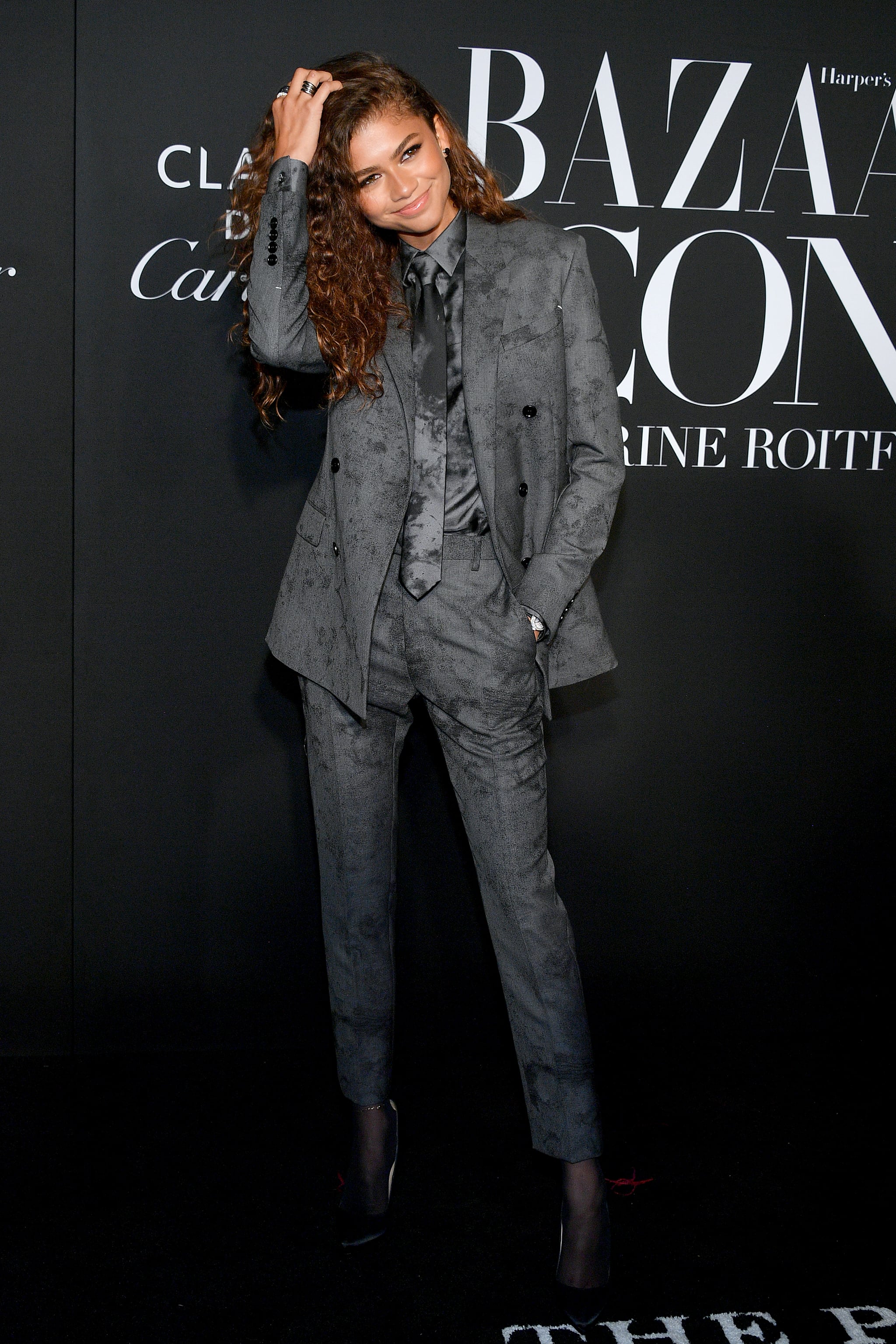 The androgynous queen proved she can do menswear just as good as—and even better than—the men. This particular number was copped from Berluti's menswear collection and was actually worn by actor Michael B. Jordan earlier that year to an event. We all know who wore it better. Z styled it with a matching tie and her signature black Louboutins and left the jacket unbuttoned as a treat for the cameras. Evidence she literally doesn't even need women's clothes to look good.
The Emmys (2019)
2019 sure was Zendaya's year. The red-carpet darling shut down last year's Emmys with this custom Vera Wang. Inspired by supervillain Poison Ivy's emerald outfit as well as The Wiz song "Emerald City Green," the gown left everyone feeling positively green with envy.
Critics' Choice Awards (2020)
Zendaya slays another red carpet. In other news the sky is blue, and grass is green. Nominated for her work in Euphoria, the actress donned a hot pink asymmetrical molded breastplate by Tom Ford. The armor-like piece was in homage to the colored breastplates done by Yves Saint Laurent and Issey Miyake. If Zendaya keeps this up (which we know she will) she's going to need a brace from carrying the entire fashion industry on her back.
FOLLOW ASHLYNN ON INSTAGRAM!
ALL PHOTOS C/O GOOGLE IMAGES